November 2016
WESTSIDE HALL OF FAME AND LIGHTHOUSE LEADERS AWARDED
The Westside Hall of Fame and Lighthouse Leader Dinner on November 3, 2016 was truly a night to celebrate. Six prominent alumni were inducted into the Westside Hall of Fame and two couples were recognized and Westside Lighthouse Leaders; the highest number ever honored at this event.
Westside Hall of Fame
Dana Bradford, Class of 1983 Dana serves as chairman and CEO of Waitt Brands and sits on the boards of Meritage Homes, Southwest Value Partners and Customer Service Profiles. Dana previously served as president and managing partner of McCarthy Capital. He earned his undergraduate degrees from the University of Arizona and his MBA from Creighton University. Dana has been active in the Omaha community through such organizations as Metropolitan Entertainment & Convention Authority (MECA), Aksarben Future Trust (and Aksarben Village), he is a current governor of Knights of Aksarben, a board member of the Omaha Chamber of Commerce, Omaha Community Foundation, Robert Daugherty Foundation, Children's Hospital & Medical Center, University of Nebraska at Omaha, Ronald McDonald House, Nebraska Innovation Campus – University of Nebraska-Lincoln, and 75 North, an organization dedicated to revitalizing North Omaha. Dana played on the 1982 Sports Hall of Fame football team.   Mark Hasebroock, Class of 1978 Mark received his B.A. from the University of Nebraska, and his M.B.A. from Creighton University.  He became Managing Director at investment banking firm McCarthy & Co.  Mark founded Omaha-based Hayneedle.com, one of the nation's largest online retailers of home furnishings.  He also cofounded GiftCertificates.com, Interface Web School and StraightShot.  Mark founded Dundee Venture Capital in 2010, investing in at least 32 seed stage, growth companies in Omaha, Kansas City, Chicago and Boulder.  His vision and investment sense have not only created $20 million plus in funds, he has helped countless Midwest businesses achieve success.   Suzanne Hutchinson Verma, Class of 1995 Suzanne 'Suzi' Hutchinson Verma, MAMS, CCA provides facial prosthetic reconstruction to patients with disfigurements due to cancer, trauma and birth defects.   She also serves as President for the International Anaplastology Association, as well as Director on the Board for the World Coalition of Anaplastology.  Suzanne is currently based in Dallas where she works as a Certified Clinical Anaplastologist with the Center for Maxillofacial Prosthodontics and is an Assistant Professor at Texas A&M University College of Dentistry.  Suzanne, an Iowa State University grad, also serves on the ISU Advisory Board and was recognized in 2015 with the Outstanding Young Alumni Award.   Pete Ricketts, Class of 1982 Governor Pete Ricketts has risen to the top in both business and politics.  Ricketts obtained his Bachelors degree and MBA from the University of Chicago, and then returned to Omaha to work at Union Pacific and his family's business Ameritrade, Ricketts held several leadership roles including President and Chief Operating Officer, as well as serving on the TD Ameritrade Board of Directors.  Ricketts is also the founder of Drakon, LLC, supporting local entrepreneurs and startup companies, and serves as a Director for the Chicago Cubs.  His desire to give back to the community where he grew up has led Ricketts to several philanthropies; he is Director for both the Children's Scholarship Fund Foundation and Nebraska Game and Parks Foundation, and an active member of the Catholic Church and associated groups.  Nebraska voters elected Ricketts the state's 40
th
 Governor in 2014.   Mike Saklar, Class of 1964 Stan 'Mike' Saklar truly embodies the spirit of service we foster at Westside Community Schools.  Since graduating from Westside High, Mike has become a respected ambassador for tens of thousands of homeless men, women and children in our city.  He has devoted the last four decades of his life to service through the City of Omaha Planning Department and as the Executive Director of the Siena/Francis House. Without the assistance of any national organization, Mike has increased the SFH operating budget from $750,000 to $3.2 million; in 2013 alone, SFH provided 420,000 meals.  That same year, Mike actively helped 244 homeless families find stable, permanent housing.  He has also founded or volunteered with numerous civic organizations including Charles Drew Community Health Center, Mayor's Fair Housing Advisory Group, and the Omaha Gladiators Athletic Association.  Mike received Creighton University's Martin Luther King, Jr. Legacy Award in 2010, and the 2013 Horace Award from Miracles Treatment Center.  He is a US Army veteran, a mentor to Asian-American student immigrants, and a father and grandfather to a new generation of Westside students.   William Trowbridge, Class of 1959 William 'Bill' Trowbridge was a standout athlete to his classmates at Westside High School.  To the rest of the country, he is a Poet Laureate with incomparable literary talent.  Upon graduation, William earned Bachelors and Masters degrees from the University of Missouri-Columbia and a Ph.D. in English from Vanderbilt University.  He has successfully published nine works, housed in the Bennett Martin Public Library in Lincoln alongside Willa Cather and Mari Sandoz.  His 435 poems have been featured in more than 30 anthologies, textbooks and periodicals and his work has netted awards including an Academy of Poets Prize, a Pushcart Prize and fellowships from multiple institutions.  He is a Distinguished Professor Emeritus at Northwest Missouri State University where he spent nearly 30 years, and currently teaches in the University of Nebraska low-residency MFA in writing program.
Lighthouse Leaders
Chrisi and John Hughes Chrisi and John Hughes moved to the District in 1997 before their oldest daughter was about to begin school.  As a public school teacher, Chrisi knew that Westside was the best place for her children to receive a big-time education in a small school atmosphere.  She immediately chaired the District census for Swanson Elementary and the couple was active in improving Swanson Park and Arboretum.  Chrisi spent the next 18 years as a school volunteer at Swanson Elementary, Westside Middle and Westside High School.  She was an active member of Volunteer Council from 2002 to 2012, serving as Vice-President, President and Advisor.  Chrisi and John have been a part of everything from classroom assistance to holiday parties, from teacher luncheons to coaching, from school improvement project to music programs, from VIVI to fundraising.  The Hughes' are also fervent supporters of the Westside Foundation, co-chairing the campaign for the Westside Bond Initiative now funding massive and much needed renovations to District facilities. John served on the Facilities Task Force and is currently Chairman of the Bond Oversight Committee.   Jackie and Terry Kroeger Jackie and Terry Kroeger are incomparable advocates and supporters of some of the most successful programs across Westside Community Schools.  As their three daughters took part in activities in our District, the Kroegers were often in the wings fundraising, organizing and donating to make these programs possible for countless children and families.  For years they were active parents at Swanson Elementary, chairing events and volunteering in the classroom.  Jackie spent years as a volleyball coach as Terry coached girls' and boys' youth basketball. Jackie and Terry also served as Swim Team Parent Organization co-presidents, chairs, and poolside volunteers.  The Kroegers support for the arts at Westside High School is simply astonishing; they have held multiple leadership roles with the Vocal Music Parents Association and Warrior Theatre, and among their achievements, revived the Rising Stars Show Choir camp to share a love of music with elementary school students while raising money for Westside's vocal music programs.  The Kroegers have made generous donations to numerous District projects including performing arts upgrades and Champions Plaza. Jackie is now mentoring with Hillside's TeamMates program; Terry serves on the executive committee of the Westside Community Foundation while also bringing in Westside students to shadow reporters at the Omaha World Herald.   Congratulations to these eight honorees. Your achievements of excellence in the community reflect impressively on Westside, and we couldn't be more proud.
November 2014

WARRIORS WIN FALL ELECTIONS
November 2014 elections put Westside graduates into various rolls in our state and national government.
John S. McCollister
('66) was elected to represent Legislative District 20 in the Nebraska Legislature.  John served as President of McCollister & Company, which has been in business for 35 years.  He also served as Executive Director of the Platte Institute for Economic Research.
Governor Pete Ricketts
('82) was elected Governor of Nebraska.  Pete worked for Union Pacific prior to joining the family business, T. D. Ameritrade, as a customer service representative. He went on to hold leadership roles in the company including Senior Vice President of Strategy and Business Development, Senior Vice President of Product Development, Senior Vice President of Marketing, President, and Chief Operating Officer (COO).  In the fall of 2007, the Nebraska Republican Party's central committee selected Pete as their national committeeman to serve on the Republican National Committee, a position he held until the fall of 2012.
Brad Ashford
('67) was elected to represent District 2 in The United States Congress. Early in his career, Brad was hired as an attorney for the General Counsel's Office of the Federal Highway Commission in Washington D.C. He then settled in Omaha to join the law firm Bradford and Coenen. Brad was first elected to the nonpartisan Nebraska Unicameral in 1986 where he served two terms before leaving and returning to serve another two terms starting in 2006.  
---
 October 2014
WHS GRAD LANDS COMEDY ON TV LAND
TV Land
just ordered a 10-episode series
of "Teachers," an irreverent comedy about school teachers starring Westside High grad Katie O'Brien. The 25-year-old O'Brien's now an actress, writer and comedian living in Los Angeles.
---
July 2014
SCHILKEN, '14, OPENING FOR COUNTRY LEGEND
Kelli Schilken's summer off from school has been all work, but it's also been all fun. You may have seen her at work. The 17-year-old has spent her weekends performing concerts around the country. Schilken is one half of country duo Belles & Whistles along with her mother, Jaymie Schilken, a member of sister singing group Mulberry Lane.
---
July 2014
COOK AND MAIDES, '06, TURN DONATED FAT INTO BIG BUSINESS
Ryan Cook was troubled by all the discarded fat. Having worked at various restaurants in Omaha, he'd seen how much excess fat gets trashed, even at higher-end eateries. He was working at Dundee's Amsterdam when he decided to make something out of this unwanted byproduct. He decided to make soap.
---
April 2014
JAMES DUFF, '89, DEBUTS FILM IN NEW YORK, LOS ANGELES AND OMAHA
Director and co-writer James E. Duff, a 1989 Westside grad, will be premiering his movie, Hank and Asha, in New York City on April 11, followed by Los Angeles on April 18, and then in Omaha, at Film Streams, on May 9.
Read the full WOWT.com article here.
---
March 2014
CLAYTON CHAPMAN, '04, IN FOOD AWARD SEMIFINALS
Clayton Chapman is one of 21 semifinalists vying for the title of best Midwest chef in the 2014 James Beard Foundation Awards.  Chapman is a Westside graduate as well as chef and owner of the Grey Plume at Midtown Crossing in Omaha.
Read the full WOWT.com article here.
---
December 2013
IAN FRIED, '04,  IS MAKING HIMSELF KNOWN IN HOLLYWOOD
Ian Fried, a WHS graduate, class of 2004, has sold four of his scripts to various Hollywood producers, each of which are on their way to film-production.  Producers include Escape Artists, who made the Spider-Man films; Exclusive Media and Hammer Films, which made "The Woman in Black" and "End of Watch"; Legendary Pictures, who produced "The Dark Knight" and "Man of Steel"; and Paramount, which has been ranked as one of Hollywood's largest movie producers.  Each of Fried's action-packed scripts are estimated to start filming in upcoming months and are set to be released in the next few years. One of the scripts, titled "Prism", has a top-secret plot and is being set to release as early as 2015.
Read the full Omaha.com article here.
---
November 2013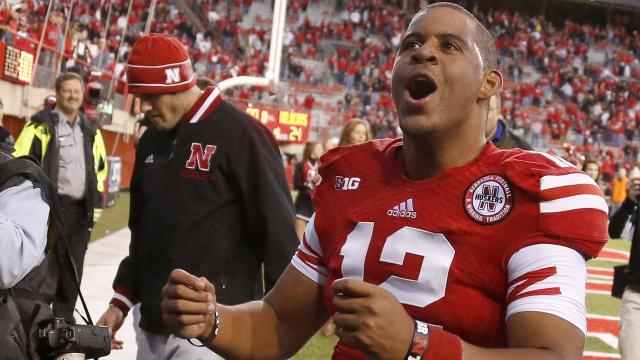 RON KELLOGG III, '09 MAKES WESTSIDE PROUD IN MEMORABLE WIN
Congratulations to 2009 Westside graduate, Ron Kellogg III on being apart of Nebraska's final minute Hail Mary to beat Northwestern 27-24 in one of the most dramatic wins in Nebraska Football history. Kellogg led the Huskers 83 yards in the final 1:14, capped by his heroic toss to Jordan Westerkamp as time expired. It is believed to be the first Hail Mary, walk-off win in regulation in Husker history, and it sent the 91,140 fans in the NCAA-record 331st consecutive sellout in Memorial Stadium into a frenzy. You have made Westside proud, Ron!
Ron Kellogg III Post Game Press Conference
- Huskers.com
Husker QB Kellogg's rise to instant fame remains a blur
- Omaha.com
Nebraska's Hail Mary Video (radio call)
- YouTube
8 moments of joy, sadness from Nebraska's Hail Mary...
- USAToday