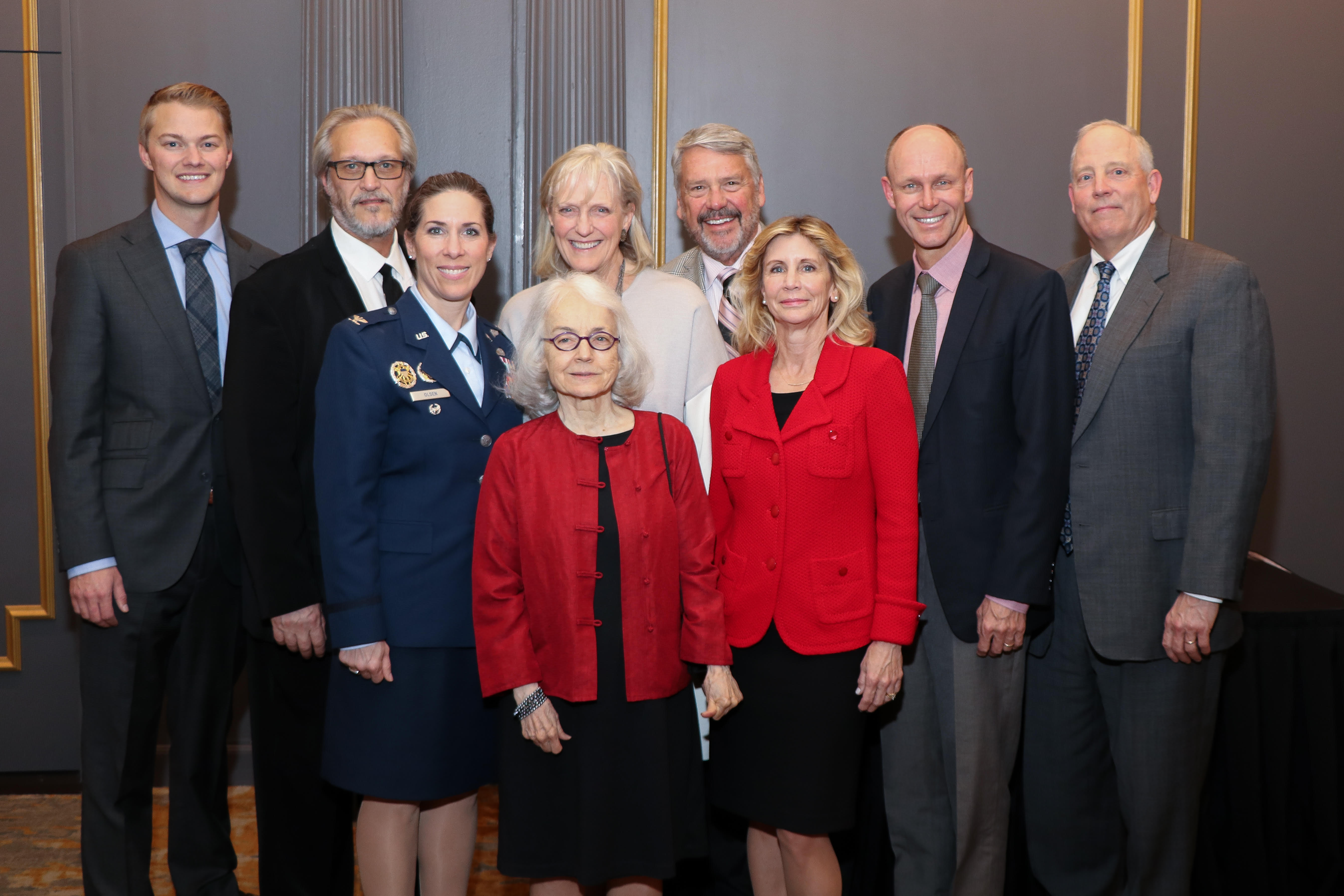 New Westside Hall of Fame and Lighthouse Leaders Awarded
The Westside Hall of Fame and Lighthouse Leader Dinner on November 3, 2018 was truly a night to celebrate. Seven prominent alumni were inducted into the Westside Hall of Fame and two couples were recognized and Westside Lighthouse Leaders; the highest number ever honored at this event.
Westside Hall of Fame
Brian L. Halla
Class of 1964
Brian Halla is a technological pioneer, industry leader and inventor who has been part of the most influential breakthroughs in America in the last 50 years. Upon graduating from Westside, Halla pursued a career in technology, a world few had heard of or understood in the 1960's. He became the youngest manager of Control Data's cyber-field support team, and was placed in charge of the NASA Sky Labs Project, heavily involved with the mainframe computers that contributed to a man's ability to go into space and walk on the moon. Halla then joined an unheard of small startup, Intel, managed by three of the founding fathers of Silicon Valley in 1975. With Halla's guidance, Intel unseated Motorola and NEC as industry leaders, and Halla was soon recruited by LSI Logic to become their Senior Vice President to lead the company into the microprocessor business. Here, he led a breakthrough in microchip designs, "Systems on a Chip" (SOC), subsequently designed into Sony's new entertainment system, 'PlayStation'; Halla co-announced the PlayStation debut with Sony Corporation in New York City. Halla became CEO and Chairman of National Semiconductor Corporation, leading the company's resurgence and ultimate dominant industry leadership position as the premier innovator and manufacturer in the microchip industry.   His patents have contributed to eyesight restoration, capsule endoscopy imaging pills, environmental analysis, and the cellular phone industry. Halla served on the Cisco Board of Directors for 10 years. Halla has often been called upon for industry advice, including by U.S. Presidents Ronald Reagan and George W. Bush, and he was presented the Albert Einstein Award by Israeli Prime Minister Benjamin Netanyahu. He and his wife Carolyn (Carolyn Simmons '65 whom he met at Westside) formed the Halla Family Foundation to support Christian outreaches focused on anti-trafficking, hunger, education and various other ministries throughout the world. They support the Wounded Warriors Project, Family Giving Tree, the University of Nebraska Foundation, and have often remembered their Nebraska roots with donations of educational robots to Westside, and to engineering scholarships at the University of Nebraska - Lincoln. Brian Halla is also the author of five children's books, written about his grandchildren.
Nancy A. Keegan
Class of 1978
Nancy Keegan has represented Westside High School at Harvard, in the global field of private investments, and through her philanthropic leadership overseeing a billion dollar budget for Nebraska Medicine and The Nebraska Medical Center. After obtaining a degree in Chemical and Petroleum Refining Engineering from the Colorado School of Mines and a Masters in Business from Harvard, she served as Vice President of Simmons & Company International, exercising in-depth operational and financial analysis and creative transaction structures for troubled companies in the complex oil and gas service and equipment industry. Keegan was also Managing Director of Crosshill Financial Group based in Washington, D.C., specializing in mergers, acquisitions, private financing and strategic advisory for biotechnology, environmental science, and telecommunications companies. She also co-founded Prestwick Companies, Inc, an early stage pharmaceutical company specializing in central nervous system disorders. She is currently a Director of the Nebraska Medical Center, Nebraska Global Investment Company, L.L.C., and a former Chairman and Director of the University of Nebraska Foundation, roles in which Nancy has headed record-setting fundraising efforts, and successfully chaired $1 billion in endowments through recession, followed by record-setting investment returns, among the top 10-percent of North American university foundations. She is also a member of the Board of Governors of the Colorado School of Mines Foundation and chairs their Investment Committee. Keegan enjoys time with her husband, their children, and grandchildren, and is an avid equestrian.
J. Gunnar Mossblad
Class of 1973
Gunnar Mossblad is an award-winning saxophonist, composer and educator, with work recognized and respected across the United States. Known as 'John' at Westside High, the now critically acclaimed Gunnar Mossblad has worked with National Endowment for the Arts (NEA) Jazz Masters, Dave Liebman and Jon Hendricks, as well as many other international jazz artists. He has completed numerous world premiere performances of 20th and 21st century jazz and classical compositions, and has performed with some of the most accomplished orchestras and symphonies in the country including Fort Worth, Roanoke, and National Symphonies. Gunnar's performances, compositions, and professional collaborations have been captured in more than 50 published recordings, including the Grammy nominated recording "Live… As Always". Gunnar has been featured in multiple publications, and was a regular contributor for both Saxophone Journal and Jazz Player magazine. With both Bachelor and Master's degrees from the University of North Texas, Gunnar has also held Professorships at three universities, James Madison University, West Chester University and the University of Toledo, where he is currently Professor of Music. Gunnar is also affiliated with music networks across the country such as the National Academy of Recording Arts Society (Grammy's) in which he is a voting member, the Jazz Education Network of which he is a founding member, and the National Association for Music Education.
Colonel Michele Zipay Olsen
Class of 1993
Colonel Michele Zipay Olsen has distinguished herself as a senior leader in the United States Air Force through lifelong devotion to country and service. She is currently Chief of the Globally Integrated Intelligence, Surveillance and Reconnaissance Functional Integration Team within the Air Force Warfighting Integration Capability, Headquarters United States Air Force, Washington D.C. She was hand-selected for the position as result of her functional expertise in order to enable innovative concept and capability development to influence future force design for the Air Force. Colonel Olsen is integral to the creation of a multi-domain strategy that will identify, guide and prioritize system development and resource alignment improving agility, readiness and lethality. Currently serving at the Pentagon, Colonel Olsen has previously been stationed at bases across the continental United States and around the world including Korea, Hawaii, the United Kingdom, as well as many forward operating bases in support of combat operations. Colonel Olsen is a career Intelligence Officer with expertise in indications and warning, signals intelligence, and cyberspace. Some of her career achievements include serving as Executive Officer to the Deputy Commander of Air Combat Command; commanding a squadron of 120 professionals enabling Joint and Air Force cyber operations; and accumulating more than 750 flying hours, including almost 600 combat hours. She has deployed in support of Operations Desert Fox, Southern Watch, Iraqi Freedom, Enduring Freedom and Nomad Shadow. She has earned numerous military awards and decorations including the Defense Meritorious Service Medal, the Meritorious Service Medal with three Oak Leaf Clusters, the Air Medal with one Oak Leaf Cluster, the Aerial Achievement Medal, and the Nuclear Deterrence Operations Service Medal. She is married to Lieutenant Colonel Michael Olsen; they have three children, Zoe (9), Xara (6) and Ezri (4).
Pamela Rowe Smith
Class of 1968
Pamela  Rowe Smith is a proponent of volunteerism and philanthropy, dedicating much of her life to programs around the world empowering women and girls. Her work establishing leadership programs for women, encouraging equitable rights and opportunities, has spanned three continents, six countries and 14 cities; Pamela has served in leadership roles in each of those locations since her time at Westside from 1965-1968. While attending Colorado State University, Pamela was part of a small all-female vocal group sponsored by USO Shows to entertain U.S. troops during the Vietnam War. After moving to Indianapolis, Pamela served as President of the Junior League, was on the Mayor's Advisory Council and founded the Women's Appointment Collaboration to increase female representation on appointed boards and commissions. She then moved to Austria, where she was a representative to the Federation of American Women's Club Overseas, working with the US Ambassador to organize a conference for female leaders in the region. In Switzerland, she served on the Parent Faculty Organization Governing Board at the International School of Geneva. Pamela moved to Hong Kong, where she co-founded and chaired The Women's Foundation, to prioritize issues of economic self-reliance for women and girls in the region. Here she was co-author of a benchmark study and publication on closing the gender gap in Hong Kong. This work led to Pamela's involvement with the Harvard Kennedy School's Women's Leadership Board, working with female leaders from more than 25 countries to initiate and support work relevant to women worldwide. After returning to live in the United States, Pamela became active in the Women's Foundation of Colorado, Soeurs de Coeur, Beyond our Borders, Women in Philanthropy and the Vail Symposium Board of Advisors. She has also worked professionally in advertising, public relations and communications consulting, and is a partner in No Harm Done Design, a company making environmentally conscious and animal-friendly interior design products.
Admiral (retired) Jordan W. Tappero, MD, MPH
Class of 1975
Jordan W. Tappero, MD, MPH is the Senior Advisor for Global Health, Center for Global Health (CGH), Centers for Disease Control and Prevention. As Senior Advisor, he provides strategic scientific and programmatic contributions to the Office of the Director's management and oversight of a $3.7 billion dollar annual budget. With 25 years of extensive global experience, Dr. Tappero works across more than 60 CDC country offices, and with multinational organizations, non-government organizations, philanthropies and other domestic and global partners. While working as Director for the Division of Global Health Protection with CGH, he led efforts in surveillance and outbreak investigation training, laboratory strengthening, public health research, and the development of National Public Health Institutes to bolster health security and prevent disease. Dr. Tappero was a leader in CDC's West African Ebola Response, serving in Liberia as the first CDC Lead for Public Health and Medical Response; he directed day-to-day international and domestic response activities throughout the crisis. He also served as Incident Manager for CDC's response to Haiti's 2011 earthquake and follow-on cholera epidemic, directing CDC's Health Systems Reconstruction Office to implement a $196 million dollar health systems recovery program there. Dr. Tappero was also instrumental in CDC preparedness and response efforts during the 2009 H1N1 Flu Pandemic, and throughout the President's Emergency Plan for AIDS Relief the same year. By the time of his retirement in December 2017, Dr. Tappero had earned the titles of Rear Admiral and Assistant Surgeon General in the USPHS, holding three American Board Certifications, a Masters Degree in Public Health from the University of California, Berkeley, and an academic appointment as Adjunct Assistant Professor with Emory University. He is a respected expert in the field of emerging infections, authoring or co-authoring more than 260 peer-reviewed publications and textbook chapters on communicable and non-communicable disease. Dr. Tappero and his wife still travel internationally and, on occasion, return to their home in Washington state.
Judith Youngman Wigton
Class of 1957
Judy Youngman Wigton helped to transform both western and eastern Omaha through artistic ingenuity, vision, and generosity. After attending school in the Loveland area and at Westside High, Wigton wanted to share her passion for the fine merchandise she had seen in her travels across the country and overseas as tour guide in her father's business, Travel and Transport. In 1962, she and Cedric Hartman opened The Afternoon Gallery, later called The Afternoon, at 41st and Harney. Inspired by Old Towne in Chicago, Wigton dreamed of seeing repurposed, unique buildings in Omaha, leading to several meetings with Sam Mercer, the owner of commercial property throughout the area of the city just east of downtown. Over the next three years, Wigton, along with Mercer and Hartman, worked to build support for their vision, which they called Omaha's 'Old Market'. They hosted luncheons, wooed potential investors, connected with journalists, and presented their idea to anyone who would listen. Wigton's influence was very important, as she celebrated the openings of Omaha's most iconic destinations (such as the French Cafe in 1969), and as she fought to retain historic aspects of the area, including the brick streets. Many credit Judy Wigton as the pioneering visionary and entrepreneur who made the Old Market the vibrant entertainment district it is today. In 2007, Wigton set her sights much further west, contributing to another vision of creating a suburban park system near 192nd and Dodge. Wigton donated $500,000 to develop 175 acres of hilly farmland into green spaces and a 60 acre lake to be used for boating and fishing. The recreation area, named Lawrence Youngman Lake to honor Wigton's father, is a beautiful, relaxing destination for families throughout the Omaha metro area.
To view all Westside Hall of Fame recipients please visit the full list here.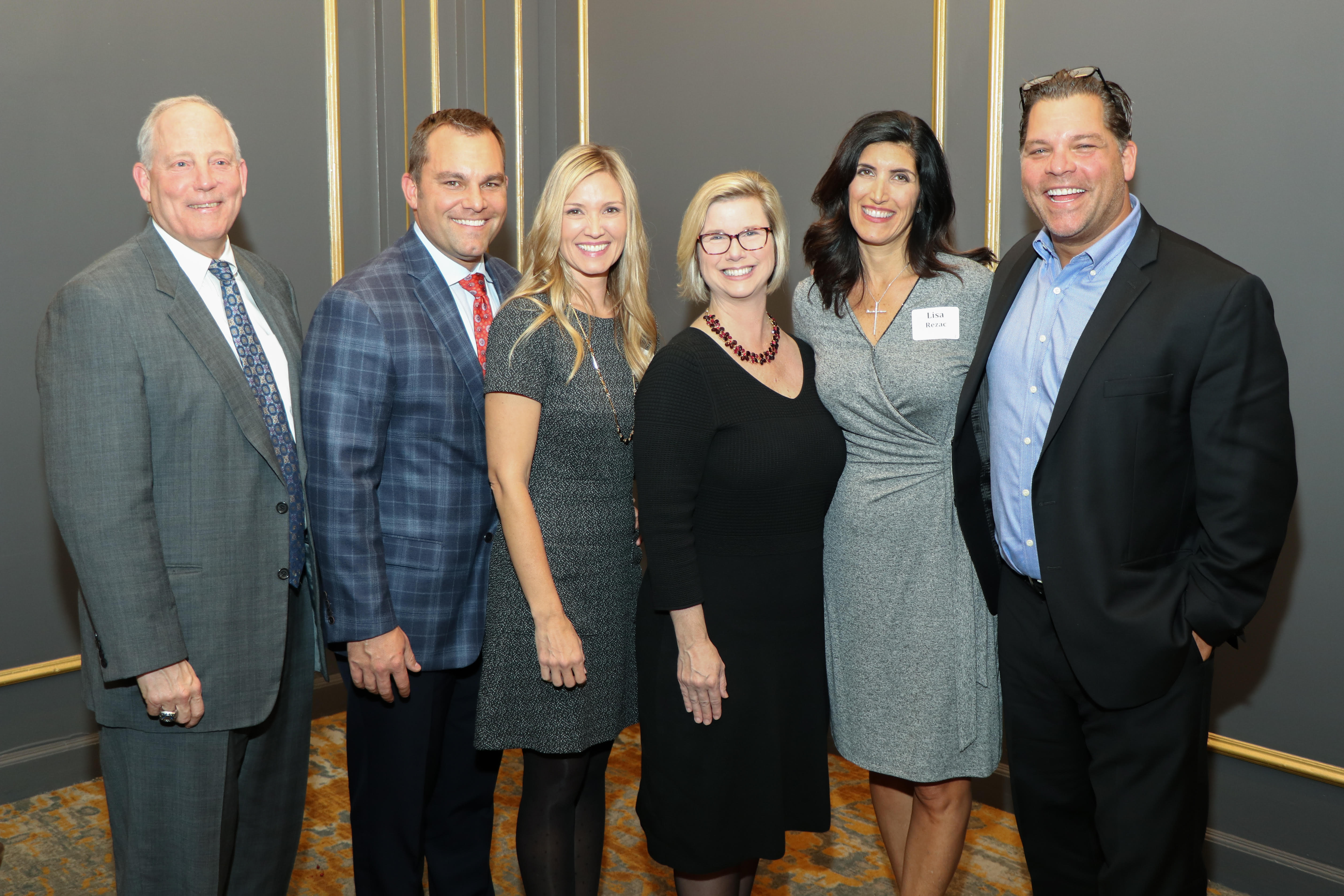 Lighthouse Leaders
Amy and Kris Brown
Amy and Kris Brown have dedicated much of their adult lives to community service as both professionals and parents. Amy's devotion to Westside Community Schools is extensive, volunteering at Oakdale Elementary, Westside Middle School, the Westside Community Council, the Westside Athletic Club, and as part of District events such as the 2018 Caucus Committee and Westside Foundation ViVi. She has fully embraced the Westside Clothing Closet, encouraging and organizing donations from throughout District 66 to benefit students in need and their families. Kris Brown's philanthropic efforts have extended back more than a decade to his time in the NFL, when the Kris Brown Kick Club raised close to 1 million dollars for the Texas Children's Hospital Charity Care program. He was a 2005 finalist for the Byron 'Wizzer' White NFL Man of the Year Award for his community service efforts, work that has now extended to the Westside area. Kris is currently part of the Omaha chapter of the Entrepreneur Organization, and often supports Westside schools through his Dunkin' Donuts franchises, even mentoring WHS business students through active involvement and hands-on learning within his stores. Kris is also a member of the Westside Bond Oversight Committee, overseeing the efficient, transparent utilization of the community approved $79.9 million dollar bond issue to upgrade District facilities.
Ann Christiansen
Ann Christiansen is a tireless advocate for Westside Community Schools, evidenced in her ongoing efforts as part of the District's long-term plans for improved facilities and schools. She was a key part of the Facilities Task Force and the Facilities Bond campaign, both identifying areas of focus and then securing support throughout District 66 to pass a $79.9 million dollar bond issue. Ann has since served on the Bond Oversight Committee, ensuring our stakeholders' investment is utilized efficiently and fulfills our promises to taxpayers. A longtime supporter of Sunset Hills Elementary (and a proud parent!), Ann was the Founding Chair of ArtPALS, Community Club President, served on the Westside Community Council, and was part of the Sunset Hills Design Advisory Committee. She is also an active leader throughout our community including Fontenelle Forest Board of Directors, where she served as President in 2017. Ann has served on numerous Guild Boards supporting children and Omaha.
Lisa and D.J. Rezac
Lisa and D.J. Rezac are proud Westside alumni, parents, and among our District's most active supporters. Both made their mark as students and 1989 graduates, D.J. later becoming a WHS Athletic Hall of Fame inductee. Few families have made greater contributions of time and financial support to Westside Athletics and activities than the Rezacs; they have sponsored DECA scholarships, the Varsity Legion Baseball team, Varsity Girls Basketball trips, and the main scoreboard in the Westside High School gym, to name only a few. They have also funded numerous youth level sports clinics, uniforms, and professional-quality promotional videos. The Rezacs are also active in the W Club, Westside Athletic Club, the Westside Touchdown Club, the Westside Vocal Music Parents Association, the Community Council, and Community Clubs at both Rockbrook Elementary and Westside Middle School. Both are familiar faces in our schools and throughout our community, using their positive influence to coach and mentor students at all levels, and to generate support throughout the city for important initiatives. The Rezacs, as Campaign Co-Chairs, were instrumental in helping with the passage of the 2018 Levy Override, and have long advocated for Westside Community Schools as ViVi Committee members and through service with the Westside Foundation.
To view all Lighthouse Leaders please visit the full list here. 
Congratulations to these honorees. Your achievements of excellence in the community reflect impressively on Westside, and we couldn't be more proud.