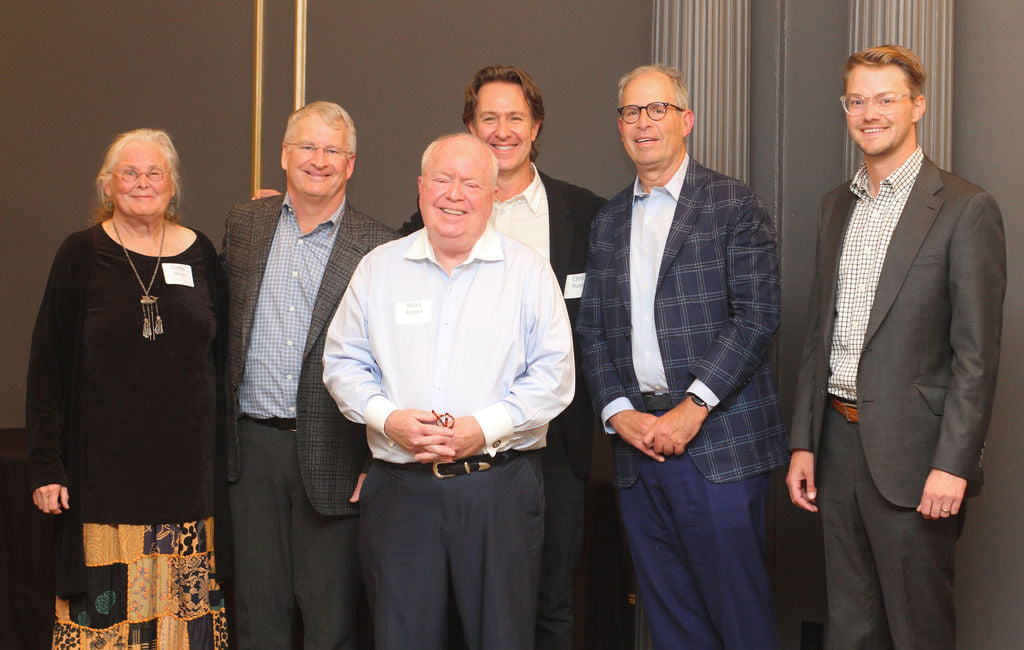 New 2020 Westside Hall of Fame and Lighthouse Leaders Awarded
The Westside Hall of Fame and Lighthouse Leader Dinner on October 21, 2021 was truly a night to celebrate. Five prominent alumni were inducted into the Westside Hall of Fame and two industry leading companies were recognized and Westside Lighthouse Leaders.
Westside Hall of Fame
SCOTT CARLSON, Class of 1975
Chairman and CEO for one of the largest food corporations in the country, Scott Carlson is also a generous philanthropist dedicated to several causes in his home state and community. After graduating from Westside in 1975, Carlson earned a Bachelor of Science degree from the University of Nebraska - Lincoln, leading to a position with Caterpillar Tractor in Illinois. Carlson returned to Omaha to join Westin Foods in 1983 and was later promoted to his current position as Chairman of the Board and the majority shareholder. Westin Foods, under Carlson's leadership, acquired multiple divisions and spearheaded multiple product launches, including the purchase of Mario Olive Company, now the largest olive importer in the United States. Carlson has overseen sales and facility expansion not only domestically, but in South America and Spain, a career highlighted by assembling organizations focused on customer needs and consumer trends. Throughout his career, Carlson has shared his success and insight with Nebraska educational institutions; he is the Vice Chairman of the Board of Directors for Bellevue University, a booster for both Creighton University and the University of Nebraska Foundation, a past Board member of the University of Nebraska Alumni Association, and an ongoing supporter of the Westside Foundation. In 2020, thanks to Carlson's vision and generosity, Westside High School built and opened the Swede Center, the premiere high school golf facility in the United States, providing programming and training for new generations of golfers, regardless of their financial status. Carlson currently lives in Omaha with his wife, Anne (Westside Class of 1976); they have four adult children: Mark, Mike, Tim and Katie.
LINDA SORENSEN MEIGS, Class of 1968
A lifelong artist and education advocate, Linda (Sorenson) Meigs has earned the iconic reputation of 'mill-lady' since purchasing and restoring Nebraska's oldest business site, the Florence Mill. Meigs, who says her earliest memories include drawing and coloring, earned a Bachelor of Fine Arts degree from the University of Kansas after graduating from Westside High School. While raising four children with her husband John Meigs (Westside Class of 1967), Meigs began exhibiting her paintings, many featuring locations throughout Nebraska. She wrote and illustrated a children's book, Nebraska from A to Z, which she personally shared with 4th graders through tours across Omaha. That same draw to history compelled Meigs in 1998 to purchase the Florence Mill, then an obsolete pink mill crumbling into the adjacent street. Meigs transformed the site, becoming founder (and janitor) of a non-profit museum with Mormon-Trail timbers dating back to 1846, drawing more than 1,000 visitors before it was even officially open; it is now designated in the National Register of Historic Places. In 2003, Meigs used the mill's 2nd floor space to create an art gallery to support young artists. To honor her late son, Meigs created the Connor Meigs Art Award, providing a month-long exhibit at the loft, in addition to residency and private visits to successful artists' studios. Many credit Meigs' success and vision with the rebirth of the Florence neighborhood; she founded a farmers' market in 2009, transforming this once neglected area of our city into a weekly community gathering place connecting agriculture, history, art and neighbors. Her contributions have led to numerous civic awards including a Landmarks Preservation Award, a Daughters of the American Revolution Historic Preservation Award, and recognition as a 2017 WCA Tribute To Women Honoree. Meigs, who still lives in Omaha, continues to create as an artist, exhibiting her work at galleries throughout the city and world in exhibits and private collections.
CHRIS MUNDY, Class of 1984
An Emmy-nominated producer and former Rolling Stone journalist, Chris Mundy is also an Omaha native who always has time and kindness for friends - and strangers - from the Midwest.  Before he graduated from Westside in 1984, Mundy was named team captain on the basketball team and journalism Managing Editor of The Lance. He pursued that passion for writing at Brown University, earning a Bachelor of Arts degree focusing on music, magazine print and television. Mundy's hard work and natural talents led to a position as a senior writer and contributing editor for Rolling Stone magazine. For the next 11 years, he traveled the country interviewing America's top musicians, actors and athletes including Kurt Cobain, Bob Dylan and Brad Pitt. Mundy moved to Los Angeles and began writing for television, working for more than 25 shows including Chicago Hope, Criminal Minds. Beginning in 2017, Mundy was hired by Netflix to create a new series called Ozark, in which Mundy served as show runner, head writer and co-executive producer. This critically acclaimed and widely popular series has been nominated for 14 Emmy Awards and has won twice. Yet in spite of his fame in both his industry and pop culture, those who know Mundy best say they most value his hospitality, generosity and warmth. Nominators share stories of Mundy opening his home to family friends he had never met when they needed a place to stay. While granting interviews to the biggest names in show business, Mundy also makes time for Westside High School journalists, writing for the same newspaper where he got his start. Family values are entrenched in the Mundy family; he is married to wife Nilou, and the couple have two children, Lila, and Daria.
ROBERT ROSE, Class of 1964
A visionary in the fields of energy and technology, Robert Rose was also a brilliant communicator with a gift for words to convey his hopes for our future. Rose's career accomplishments were foreshadowed by his years at Westside High School, where he was an all-around student athlete, Boys State participant and Student Council leader. He received a Nebraska Regents Scholarship and graduated from the University of Nebraska with majors in both English and Philosophy. Before the age of 30, Rose was already gaining respect in Washington DC as a writer with United Press International and as Press Secretary to US Senator/Secretary of State Edmund Muskie. He founded his own firm, Rose Communications, Inc. in 1981 to advocate for major environmental, public interest and public health organizations including the National Clean Air Coalition. Over years of extensive work and experience, Rose earned a reputation as not just an energy guru but a talented author who wrote or edited hundreds of articles, speeches, and reports. In 1993, Rose founded Breakthrough Technologies Institute, Inc. (BTI), an independent nonprofit advocate for technologies that bring environmental benefits to society. He was one of the first advocates for hydrogen and fuel cell technologies, electrochemical devices that produce electricity with only water and heat as by-products. Rose founded the U.S. Fuel Cell Council and was key in the passage of the Energy Policy Act of 2005. Today, fuel cells are operating worldwide, playing a crucial role in the future of clean energy; Rose's international impact and lifelong efforts spanning 50-years led to a Lifetime Achievement Award from the National Hydrogen Association and a Special Recognition Award from the U.S. Department of Energy in 2013. Rose never touted his professional success, which was globally recognized and applauded, but remained a modest, loving husband to Ann and family man to his daughter Adrian and her family. Rose, who died in 2018 after a gallant battle with cancer, said of himself 'I hope to be remembered as someone who loved his family, worked hard, tried to help, enjoyed a good story, took his work seriously - but not himself - and loved to eat, drink and travel with good companions.'
MICHAEL STAENBERG, Class of 1972
A nationally respected developer and entrepreneur, Michael Staenberg is also a philanthropist dedicated to repairing our world one community at a time. When his father died suddenly when Staenberg was just 13, he found escape and refuge through his friends and mentors at Westside and the Omaha Jewish Community Center. Staenberg never forgot that feeling of inclusion and community and carried it with him as he graduated from Westside High School and excelled in business at Arizona State University. He quickly earned a reputation as an innovative thinker with a passionate drive for success through hard work, attention to detail and persistence. As Senior Vice President and Director of Real Estate for the Leo Eisenberg Company, he represented top industry clients like Wal-Mart, McDonald's, and AMC Theatres. Staenberg co-founded THF Realty in 1991, which grew to become the third largest commercial real estate firm in the United States; he then founded The Staenberg Group in 2012, which currently develops, leases, and manages 17 leading shopping centers across the United States. In his career spanning 40 years, Staenberg has developed more than 35 million square feet of quality retail space at an estimated value of $2 billion. With every community Staenberg has touched economically, he has also impacted through philanthropy and kindness. In 2005, Michael and his wife Carol established the Staenberg Family Foundation, funding programs related to arts and culture, children, education, and medical services. Over the past decade, the foundation has provided more than $60 million to various organizations and communities; Staenberg and his employees also provide pro bono professional expertise to non-profit organizations across the country. Among his donations, Staenberg, who has never forgotten his hometown roots, is a consistent contributor to major projects at both Westside High School, the Westside Alumni Association, and the Jewish Community Center. Staenberg is or has served on multiple philanthropic or professional boards and/or organizations; he and his wife live in St. Louis and are thrilled to watch their daughters build their own careers in St. Louis, New York, and Chicago.
To view all Westside Hall of Fame recipients please visit the full list here. 
Lighthouse Leaders
Amy and Kris Brown
Amy and Kris Brown have dedicated much of their adult lives to community service as both professionals and parents. Amy's devotion to Westside Community Schools is extensive, volunteering at Oakdale Elementary, Westside Middle School, the Westside Community Council, the Westside Athletic Club, and as part of District events such as the 2018 Caucus Committee and Westside Foundation ViVi. She has fully embraced the Westside Clothing Closet, encouraging and organizing donations from throughout District 66 to benefit students in need and their families. Kris Brown's philanthropic efforts have extended back more than a decade to his time in the NFL, when the Kris Brown Kick Club raised close to 1 million dollars for the Texas Children's Hospital Charity Care program. He was a 2005 finalist for the Byron 'Wizzer' White NFL Man of the Year Award for his community service efforts, work that has now extended to the Westside area. Kris is currently part of the Omaha chapter of the Entrepreneur Organization, and often supports Westside schools through his Dunkin' Donuts franchises, even mentoring WHS business students through active involvement and hands-on learning within his stores. Kris is also a member of the Westside Bond Oversight Committee, overseeing the efficient, transparent utilization of the community approved $79.9 million dollar bond issue to upgrade District facilities.
Ann Christiansen
Ann Christiansen is a tireless advocate for Westside Community Schools, evidenced in her ongoing efforts as part of the District's long-term plans for improved facilities and schools. She was a key part of the Facilities Task Force and the Facilities Bond campaign, both identifying areas of focus and then securing support throughout District 66 to pass a $79.9 million dollar bond issue. Ann has since served on the Bond Oversight Committee, ensuring our stakeholders' investment is utilized efficiently and fulfills our promises to taxpayers. A longtime supporter of Sunset Hills Elementary (and a proud parent!), Ann was the Founding Chair of ArtPALS, Community Club President, served on the Westside Community Council, and was part of the Sunset Hills Design Advisory Committee. She is also an active leader throughout our community including Fontenelle Forest Board of Directors, where she served as President in 2017. Ann has served on numerous Guild Boards supporting children and Omaha.
Lisa and D.J. Rezac
Lisa and D.J. Rezac are proud Westside alumni, parents, and among our District's most active supporters. Both made their mark as students and 1989 graduates, D.J. later becoming a WHS Athletic Hall of Fame inductee. Few families have made greater contributions of time and financial support to Westside Athletics and activities than the Rezacs; they have sponsored DECA scholarships, the Varsity Legion Baseball team, Varsity Girls Basketball trips, and the main scoreboard in the Westside High School gym, to name only a few. They have also funded numerous youth level sports clinics, uniforms, and professional-quality promotional videos. The Rezacs are also active in the W Club, Westside Athletic Club, the Westside Touchdown Club, the Westside Vocal Music Parents Association, the Community Council, and Community Clubs at both Rockbrook Elementary and Westside Middle School. Both are familiar faces in our schools and throughout our community, using their positive influence to coach and mentor students at all levels, and to generate support throughout the city for important initiatives. The Rezacs, as Campaign Co-Chairs, were instrumental in helping with the passage of the 2018 Levy Override, and have long advocated for Westside Community Schools as ViVi Committee members and through service with the Westside Foundation.
To view all Lighthouse Leaders please visit the full list here. 
Congratulations to these honorees. Your achievements of excellence in the community reflect impressively on Westside, and we couldn't be more proud.