Who was Homecoming King the year you graduated?
Remember those band uniforms you had to wear?
Would you like to take a trip down memory lane through your yearbook?
Join the Westside Foundation in our efforts to create an online directory of Westside High School Yearbooks (Shield) and Newspapers (Lance).  Partnering with the Westside Alumni Association, the Foundation is in search of businesses, groups and individuals to sponsor the cost to digitize all Shields and Lances.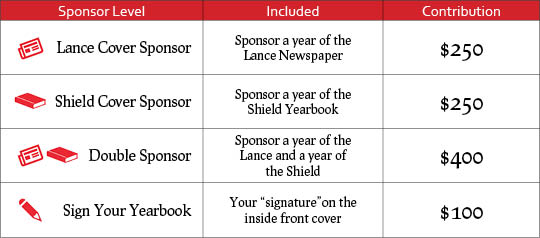 Cover sponsors would receive:
Logo recognition on the Westside Alumni website next to the sponsored Shield and/or Lance for the year(s) of your choice
Logo recognition on the first page of the scanned publication, which Alumni can view online
Logo recognition on hard copy DVDs, which will be available for purchase at class reunions
Sign Your Yearbook sponsors would receive:
Your name on the inside front cover of the yearbook – as if you signed your own yearbook!
View the Online Shield Yearbooks
View the Online Lance Newspapers
To sponsor a Lance or Shield, complete our online form.  For more information or questions, please contact Christy Ziskey at 402-390-2133 or ziskey.christina@westside66.net.