Current Projects
The Westside Foundation works closely with Westside Community Schools Administration in researching potential projects that will impact students and teachers throughout the district.  The projects below have been approved by district and building leaders.  The Westside Foundation staff works with alumni, current parents of Westside students and Westside community supporters to help fund projects in an impactful way.  If you are interested in supporting a project and/or have a project in mind that would benefit our students, faculty and community please reach out!
Heart of Westside Renovation Project
"You never get a second chance to make a first impression."  Michael Staenberg (Westside High, Class of '72)
Westside High School takes great pride in being a welcoming and inclusive community for all students, staff members and the greater community. When alumnus Michael Staenberg, an internationally respected developer and entrepreneur, returned to his alma mater in 2021, he asked to contribute to the welcoming aura he always felt by investing in an updated look for the main entry space and essential hallways. As part of a commitment to both student well-being and district infrastructure, the Westside Foundation and Mr. Staenberg initiated the Heart of Westside Renovation project, funding aesthetic and functional upgrades throughout Westside High School.
The Heart of Westside Renovation project focused on the main foyer as well as spaces by the auditorium, the school store, the cafeteria, and major hallways which are the heaviest traveled and most frequently visited sections of our school. That first impression is now one of structural and artistic excellence, mirroring the excellence we strive for everyday in our Westside Community Schools.
Summary of The Heart of Westside Renovation Project:
LED lighting
New paint color scheme throughout these spaces to energize the space and provide a clean look
New carpet highlighting school colors to enhance the overall feel of the space
New professional signage highlighting the school's brand
Project Budget:
Project Donors:
Michael Staenberg ('72) – Lead Donor
Westside Foundation
Anonymous
Stephanie (Abraham) Hirsch
Bob Howard (Storz Foundation)
Marcia Angle and Mark Trustin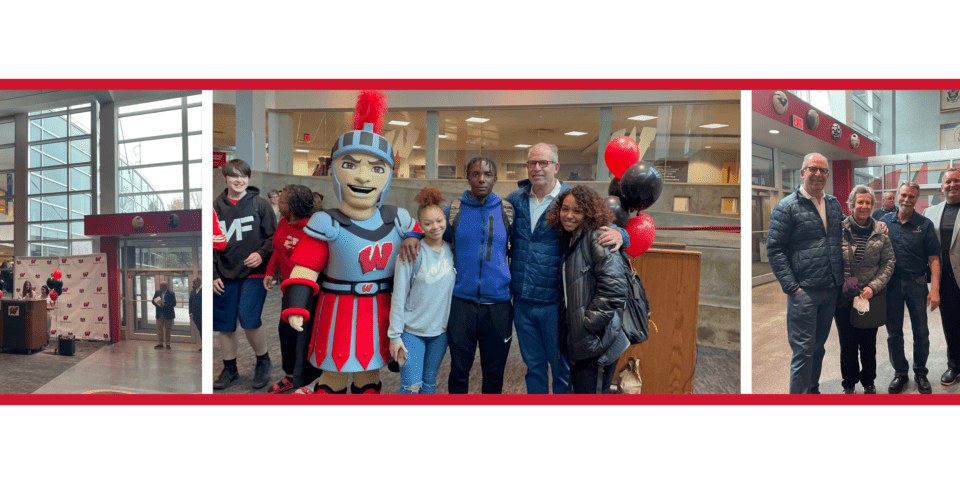 Warrior Student IT Help Desk
Project Summary:
The new Student Run IT Help desk is designed to offer our students the opportunity to gain skills related to technology and troubleshooting. The new space was designed by students, will be named by students, and will be staffed by our students, and will be in the current business office of the high school adjacent to the cafeteria. The purpose is two-fold: provide our students with valuable work experience and transferable skills and have a professional looking office space where current students, staff and community are proud the area.
Project Budget:
Project Donors:
Lead Donor – will be announced when project is completed
Westside Foundation
Past Projects
We are excited to have funded 100% of these projects listed below through the generous support of alumni, parents of Westside students, friends of the Westside community and corporate support in Omaha.
ACT Prep
Athletic Hallway
Bob Sturm Welcome Center
Champions Plaza
Family Resource Center
Grow Our Own Fund
Instrumental Lesson Fund
Louis Miloni Legacy Fund
Music Lesson Fund
NFM Entrepreneurship Program
Para to Teacher Fund
Seline Softball Complex
Tangdall Court
The Swede Golf Center
VMPA Trailer
Welding and Fabrication Center
Westside Baseball Stadium Project
Hundreds of grants supporting the various programs and initiatives throughout the high school, middle school and ten elementary schools in District 66.